Breath from Salt: A Deadly Genetic Disease, a New Era in Science, and the Patients and Families Who Changed Medicine Forever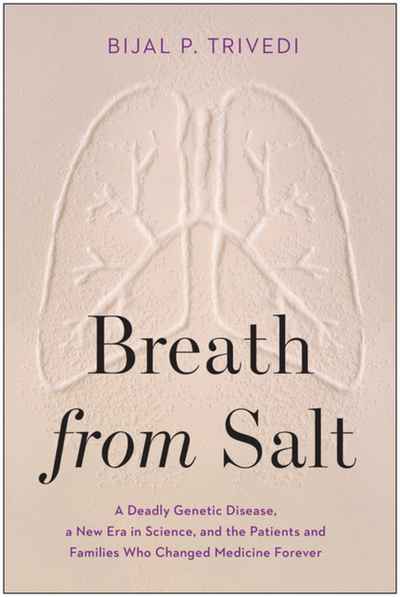 Hardback | Nov 2020 | BenBella Books | 9781948836371 | 400pp | 229x152mm | GEN | AUD$44.99, NZD$54.99

Cystic fibrosis was once a mysterious disease that killed infants and children. Now it could be the key to healing millions with genetic diseases of every type—from Alzheimer's and Parkinson's to diabetes and sickle cell anemia. Science writer Bijal P. Trivedi gives a comprehensive look at cystic fibrosis, from its late 1930s discovery to the recent development of breakthrough treatments for 90% of patients, and the way treatments for the previously fatal disease are opening the door for curing other life-threatening conditions.
In 1974, Joey O'Donnell was born with strange symptoms. His insatiable appetite, incessant vomiting, and a relentless cough — which shook his tiny, fragile body and made it difficult to draw breath — confounded doctors and caused his parents agonising, sleepless nights. After six sickly months, his salty skin provided the critical clue: he was one of thousands of Americans with cystic fibrosis, an inherited lung disorder that would most likely kill him before his first birthday.
The gene and mutation responsible for CF were found in 1989 — discoveries that promised to lead to a cure for kids like Joey. But treatments unexpectedly failed and CF was deemed incurable. It was only after the Cystic Fibrosis Foundation, a grassroots organisation founded by parents, formed an unprecedented partnership with a fledgling biotech company that transformative leaps in drug development were harnessed to produce groundbreaking new treatments: pills that could fix the crippled protein at the root of this deadly disease.
From science writer Bijal P. Trivedi, Breath from Salt chronicles the riveting saga of cystic fibrosis, from its ancient origins to its identification in the dank autopsy room of a hospital basement, and from the CF gene's celebrated status as one of the first human disease genes ever discovered to the groundbreaking targeted genetic therapies that now promise to cure it.
'Elaborating on the science as well as the business behind the fight against cystic fibrosis, Trivedi captures the emotions of the families, doctors, and scientists involved in the clinical trials and their 'weeping with joy' as new drugs are approved, and shows how cystic fibrosis, once a 'death sentence,' became, for many, a manageable condition. This is a rewarding and challenging work.' — Publishers Weekly