Instant Tagalog: How to Express Over 1,000 Different Ideas with Just 100 Key Words and Phrases!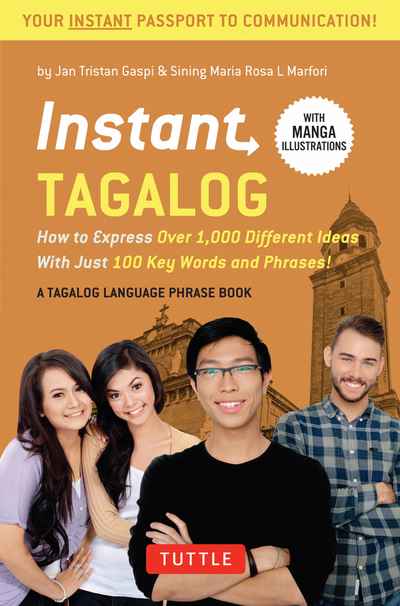 Paperback | Nov 2016 | Tuttle Publishing | 9780804839419 | 160pp | 152x108mm | GEN | AUD$10.99

It's amazing how 100 key words and phrases provide instant communication! Do you want to speak simple Tagalog but are too busy to study it? Are you visiting the Philippines for a short time and want a Tagalog phrase book to help you communicate? If so, this is the book for you; it's the quickest and easiest way to learn the most common Filipino language. Its tiny 0.4 x 4.1 x 5.9 inches size makes it incredibly convenient to travel with but without losing the most essential content for communication. The idea of Instant Tagalog is simple; learn 100 words and phrases and say 1,000 things. The trick is knowing which 100 words to learn, but the authors Jan Gaspi and Sining Marfori have solved the problem, choosing only those words you'll hear again and again. Even with a vocabulary this small, you'll be surprised how quickly and fluently you too can communicate in the Tagalog language. Added features include an easy-to-use pronunciation guide and Tagalog dictionary fore quick reference. Here's a sample of what you'll be able to do: Meet people. Go shopping. Ask directions. Ride the subway. Order food and drinks. And much more.