Ultimate Origami for Beginners: The perfect kit for beginners - Everything you need in this box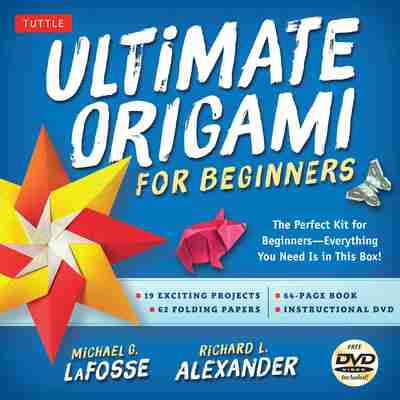 Multiple-item retail product, boxed | Dec 2014 | Tuttle Publishing | 9784805312674 | 96pp | 222x222mm | Stocked item | GEN | AUD$19.99



This is the perfect kit for you if you've always wanted to try origami, but could never settle on a single style or type of paper. Don't limit yourself -- try them all!
What's all this buzz about origami? It seems that everywhere we look, people are folding paper! While previous generations may have made greeting cards with cranes folded from pretty scraps of paper, the art has advanced to such a degree that we are now seeing it grace retail store windows; on TV and in print ads; as clever dollar bill folds on display in restaurants; being used as "tangible manipulatives" to teach geometry more effectively in our schools; on display in libraries; and even as fine art exhibitions in the poshest museums around the world.
Perhaps paper folding appeals to you, but you have never done it. What are the rules? What papers work best? Do I need any special tools? How do you read those funny diagrams? Here is the ultimate origami sampler kit for you to become acquainted with the fun and the surprising breadth of origami today. World renowned origami designers Michael G. LaFosse and Richard L. Alexander have selected these projects from several popular categories of design: traditional favorites, multi-piece flowers, clever paper airplanes, and cute and cuddly animals. This delightful array of projects and papers are sure to get your feet wet, and your fingers folding!