The Chipilly Six: Unsung heroes of the Great War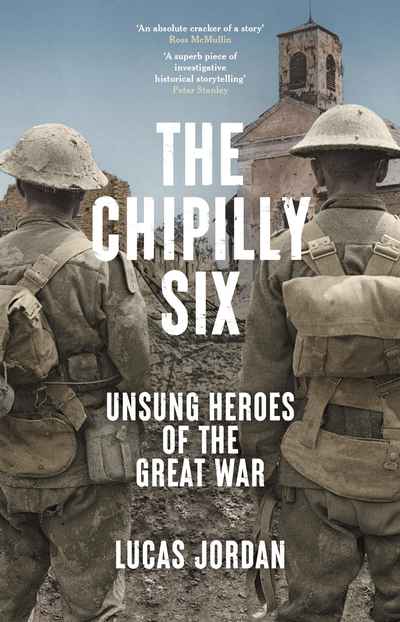 Paperback | Aug 2023 | NewSouth | 9781742238098 | 320pp | 210x135mm | GEN | AUD$34.99, NZD$39.99


On 9 August 1918, at Chipilly Spur overlooking the Somme River, an entire British Army Corps is held up by German machine gunners.
The battle has raged for 30 hours and more than 2000 men have fallen. Then, two Australian sergeants, Jack Hayes and Harold Andrews, go absent without leave and cross the Somme ahead of British lines. Seeing that the British advance is stopped, they re-cross the river, gather four mates and return to drive the Germans off the spur.
The extraordinary feats of the Chipilly Six and the personal stories of these diggers have been overlooked. Historian Lucas Jordan weaves a compelling tale of the lives of the soldiers, chronicling their return home and years after service, through a pandemic, the Great Depression, another world war and the very first Anzac Day dawn service.
'The Chipilly Six were extraordinary men in extraordinary times. Lucas Jordan reveals a wider story of Australia's Great War veterans as they battled a nation forgetting, a bitter Depression, another World War and beyond. This is a remarkable insight into a vanishing world' — Bill Gammage, Emeritus Professor, Humanities Research Centre, ANU
'An absolute cracker of a story. No one — and I literally mean no one! — is more equipped to write a compelling book about the remarkable story of the Chipilly Six.' — Ross McMullin, author of Life So Full of Promise
'A superb piece of investigative historical storytelling. Lucas Jordan is part of a new generation of military historians. He is a bright star.' — Peter Stanley, author of Bad Characters: Sex, Crime, Murder and the Australian Imperial Force
'Throws new light on the impact of war on families and communities, wives and brothers-in-arms.' — Marilyn Lake, Professorial Fellow, University of Melbourne
'A remarkable piece of recovered history that offers great insight into the impact of war on Australian society. Highly recommended.' — Jeff Popple, Canberra Weekly
'It's impossible to read this ripping, vivid recreation of events without shaking your head in disbelief.' — Sydney Morning Herald and The Age
'Lucas Jordan is to be congratulated on producing a compelling book describing a pivotal era of Australian history, as well as making the exploits of the Chipilly Six better known.' — David Phillipson, Military History & Heritage Victoria
'With the current Royal Commission into Veteran suicide, this is a timely and important look at just what returning soldiers face when they are expected to slide back into normal society when the war is over. For many, the war continues long after the final shots are fired.' — Warwick O'Neill, Military History & Heritage Victoria