Symbols of Australia: Imagining a Nation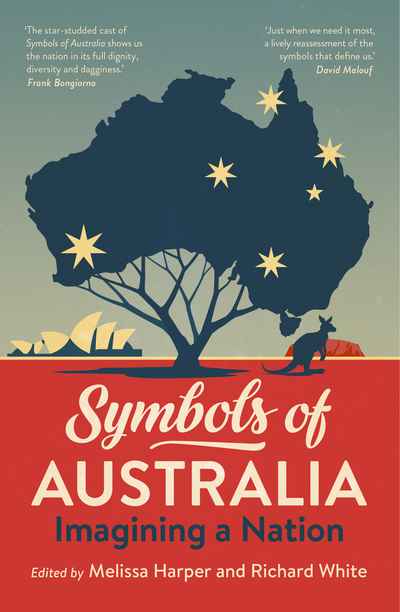 Paperback | Nov 2021 | NewSouth | 9781742237121 | 464pp | 234x153mm | GEN | AUD$39.99, NZD$47.99


Australia is a land of symbols. The Southern Cross.
The Sydney Opera House. The kangaroo. Vegemite.
But what do they actually mean? Where do they come from?
Why are some symbols so hotly contested?
Does Australia have more than its fair share?
Symbols of Australia offers illuminating and unexpected insights into the symbols that surround us: from Uluru to the Australian flag, the rainbow serpent to Holden cars, the democracy sausage to the Great Barrier Reef.
Entertaining, provocative, informative, and often surprising, Symbols of Australia reveals a great deal about the ways nations are imagined – and how they imagine themselves.
'Just when we most need it, a lively reassessment of the symbols that define us and their commercial and political exploitation. A mixture of scholarly ease and irreverent playfulness that also defines us.' — David Malouf, award-winning Australian writer
'If the nation is imagined, the business of creating its meaningful symbols gives us the very essence of its history. The star-studded cast of Symbols of Australia takes us on a fascinating tour among kangaroos and pavlovas, baggy green caps and rainbow serpents, Holden cars and vegemite jars — and much more besides. On this splendid journey across desert and beach, reef and harbour, city and bush, we see and hear the nation in its full dignity, diversity and dagginess.' — Frank Bongiorno, Professor of History, Australian National University
'Humorous, insightful and profound, this book is a thought-provoking survey of twenty-eight of Australia's best-known and most significant symbols. Entries range from Indigenous symbols that resonate with meaning, such as the Rainbow Serpent or Uluru, to animals and the natural world, official symbols, cultural practices, and commercial items of consumption. Most importantly, it showcases the agency of ordinary Australians and the role of popular culture in forging national identity.' — Associate Professor Hsu-Ming Teo, Macquarie University
'Symbols of Australia, in this new revised edition, is essential reading for a sure-footed trek into our constant act of becoming 'Australian', sifting through the raging cacophony of opinions to distil the most pertinent elements … all while keeping a sense of humour firmly intact.' — Miriam Corowa, journalist, presenter, producer and director
'This book is a fascinating look at the symbols that have been used to define and represent our nation. At a time when Australian identity is so contested, Symbols of Australia provides invaluable insight and context, overturning long-held assumptions and rattling revered icons. Symbols of Australia will make you re-think who we are, and where we came from. Even better, it's a bloody good read.' — Monica Dux, writer, columnist and social commentator
'A marvellous new addition to our knowledge of Australia's national imaginings ... a fantastic read, both hugely informative and enormously entertaining.' — Karen Fox, Australian Policy and History