Sushi Art Cookbook: The Complete Guide to Kazari Sushi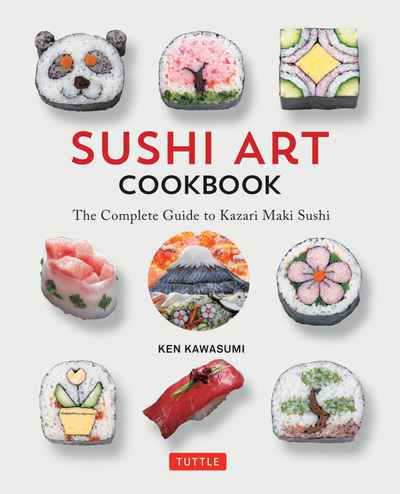 Hardback (B501) | Nov 2017 | Tuttle Publishing | 9784805314371 | 128pp | 254x203mm | GEN | AUD$29.99


Entertain your friends and family with sushi that looks as fantastic as it tastes!
As the world's appetite for Japanese sushi continues to skyrocket, the Sushi Art Cookbook introduces readers to the art of creating sushi that looks as fantastic as it tastes. Author Ken Kawasumi — principal lecturer at the Japanese Sushi Institute — is the pioneering chef behind Kazari Maki Sushi. The designs revealed by slicing the sushi logs into delicious morsels can be understated or refined, expressive or playful — whatever suits the occasion.
A sushi cookbook like no other, this guide to decorative Kazari Maki Sushi includes:
How to prepare your ingredients, including delicious sushi rice

How to assemble, roll, press, and cut Sushi correctly

How to arrange ingredients for amazing cross-section imagery .

Anyone can create these simple-to-sophisticated sushi recipes and designs:
Chrysanthemum

Bunny

Clown

Smiley-Face

Panda

Cherry Blossom

Guitar

Penguin

Bonsai Tree

Samurai

and much more.
"Rich in mouth-watering illustrations and attentive to details, yet never overburdening its readers, the Sushi Art Book is a perfect guide for sushi aficionados and chefs alike."―Japan Reference blog*300,000 monthly visitors
"This is a very beautiful cookbook produced on heavy, glossy paper stock with hundreds of thumbnail photos, many of which are part of a series of step-by-step instructions."―Manhattan Book Review*15,000 monthly visitors
"This fun and instructive guide from Kawasumi, one of Japan's most highly acclaimed sushi chefs and a principal lecturer at the Japanese Sushi Institute, teaches home cooks to create exquisite maki and sushi that are almost too striking to eat...Kawasumi has provided an excellent guide that's perfect for those looking to step up their sushi game."―Publishers Weekly