Out of Sight, Out of Mind: The Royal Australian Navy in Vietnam 1965-1972, 2nd Edition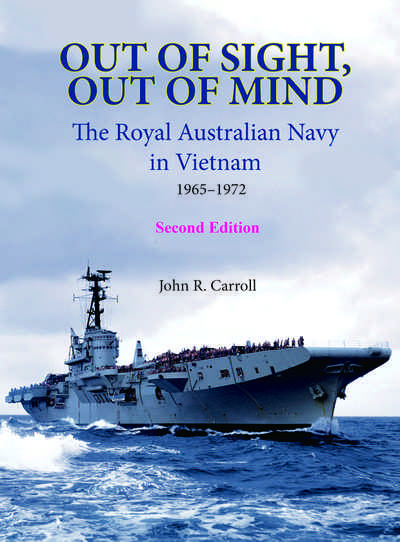 Paperback | Jan 2020 | Rosenberg Publishing | 9780648446682 | 260pp | 285x210mm | GEN | AUD$34.95, NZD$39.99


Out of Sight, Out of Mind identifies and dispels various myths which have developed around the importance of sea transport and logistical support, and argues for a new appreciation of the service of the 13,000 members of the RAN who participated in this vitally important task.
Many of the illustrations were taking by serving military personnel which gives them an immediacy and poignancy lacking in official photographs. The second edition includes a large new chapter In Their Own Words containing pieces from the sailors and soldiers who served at sea, or were transported by sea, to and from Vietnam. It also includes many former members of the RAN not credited with operational service. Foremost was Lt Cdr Peter Maxwell Cumming who served in an advisory/observer role during the latter part of 1962 and the first weeks of 1963, before the first 30 members of the Australian Army Training Team Vietnam. The 200+ Fleet Air Arm personnel who served in HMAS Sydney as HMAS Sydney Flight were not recognised as having served in Vietnam or recorded on the Nominal Roll as Vietnam Veterans. This situation has been rectified.
The second edition has been thoroughly checked updated where required and validated. The substantial amount of corroborating evidence ensures it is true and accurate. The first edition was utilised to great effect by advocates and legal representatives of veterans at the Veterans Review Board, the Administrative Appeals Tribunal and at the Federal Court. The author highlights and analyses the vital part played by HMAS Sydney and other units of the RAN in the support of land bases forces in Vietnam. The perceived absence of enemy threat was the prime factor influencing the Federal Government's decision to exclude from benefits and entitlements those who served in Sydney, Jeparit and Boonaroo and the warships that escorted them into the war zone. A flawed decision made on the basis of fallacious information and the cause of much bitterness. While Sydney and her escort were at anchor, not only were they vulnerable to an enemy well versed in unconventional guerrilla warfare, but all who served in these ships were also exposed to highly toxic herbicides used to defoliate the nearby landscape.
The residue of this procedure flowed into the surrounding rivers and streams. Due to the processes used in those times for the production of potable water, the dioxins contained in the distillate were enriched, thereby making them much more potent and deadly. The vexed issue of exposure to Agent Orange has also been expanded. This is due to an ongoing reluctance of government to fully recognise that exposure to toxic defoliants via contaminated potable water is still having a detrimental effect on both the sailors who served at sea, and those who were transported by sea, to and from Vietnam. Obfuscation and indifference by the minister(s) concerned does nothing for the health and wellbeing of those who served. This ongoing problem has been included in the Chapter titled Herbicide Exposure.