Living with the Anthropocene: Love, Loss and Hope in the Face of Environmental Crisis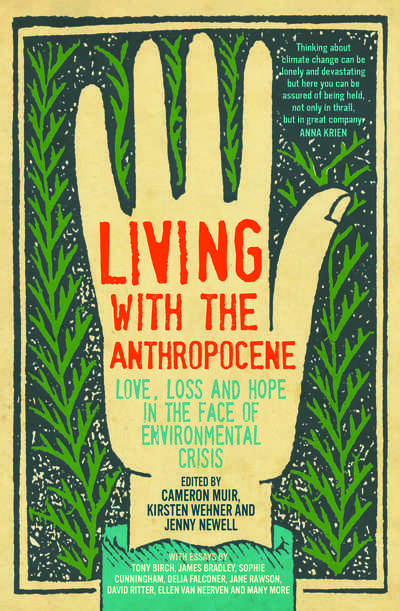 Paperback | Oct 2020 | NewSouth | 9781742236889 | 384pp | 234x153mm | GEN | AUD$34.99, NZD$39.99


Australia — and the world — is changing. On the Great Barrier Reef corals bleach white, across the inland farmers struggle with declining rainfall, birds and insects disappear from our gardens and plastic waste chokes our shores. The 2019–20 summer saw bushfires ravage the country like never before and young and old alike are rightly anxious. Human activity is transforming the places we live in and love.
In this extraordinarily powerful and moving book, some of Australia's best-known writers and thinkers — as well as ecologists, walkers, farmers, historians, ornithologists, artists and community activists — come together to reflect on what it is like to be alive during an ecological crisis. They build a picture of a collective endeavour towards a culture of care, respect, and attention as the physical world changes around us. How do we hold onto hope?
Personal and urgent, this is a literary anthology for our age, the age of humans.
Contributors include:
Michael Adams — Nadia Bailey — Saskia Beudel — Tony Birch — James Bradley — Jo Chandler — Adrienne Corradini — Sophie Cunningham — John Dargavel — Penny Dunstan — Delia Falconer — Laura Fisher — Suzy Freeman-Greene — Andrea Gaynor — Joëlle Gergis — Billy Griffiths — Ashley Hay — Justine Hyde — Lucas Ihlein — Jennifer Lavers — Ian Lunt — George Main — Cameron Allan Mckean — Gretchen Miller — Ruth A. Morgan — Stephen Muecke — Cameron Muir — Jenny Newell — Emily O'gorman — Kate Phillips — Alison Pouliot — Jane Rawson — Annalise Rees — Lauren Rickards — David Ritter — Libby Robin — John Charles Ryan — Katrina Schlunke — Ray Thompson — Angela Tiatia — Ellen Van Neerven — Adriana Vergés — Kirsten Wehner — Gib Wettenhall — Josh Wodak — Kate Wright
'Living with the Anthropocene is an illuminating deep-dive in this 'storm of our own making'. With such a diverse and expansive collection of voices, what makes this book stand out is its unity. Thinking about climate change can be lonely and devastating but here you can be assured of being held, not only in thrall, but in great company.' — Anna Krien
'An important book that speaks to our time.' — Tim Flannery
'With this marvellous book the term Anthropocene loses its academic tinge to become a pervasive and pressing reality. A pantheon of Australia's finest environmental writers reveals the haunting personal costs of living in a world that humans have already turned upside down.' — Iain McCalman
'Scientists originated the term and concept of the Anthropocene. But this work takes a much deeper dive into what the Anthropocene really means for us humans now and into the future, and – importantly – what the Anthropocene means for the rest of life with which we share this planet.' — Will Steffen
'The beauty of this collection is that it walks a tightrope over this chasm of self-disgust and dread without toppling into it...From James Bradley on cuttlefish to Saskia Beudel on the changing soundscape of her mother's garden, the quality of writing in these pieces, their delight in nature and their determination not to give in to despair make for stirring reading despite the grim truths they confront.' — Fiona Capp, Sydney Morning Herald Non-Fiction Pick of the Week
'Stomach-churning figures cast shadows of profound anguish across many of the unexpectedly intimate stories shared by the collection's contributors, an impressive array of scientists, novelists, journalists and essayists...Mostly written prior to both the late 2019–20 bush fires and the Covid-19 pandemic, this anthology is perhaps even more relevant, timely and important now...the writing in each essay is almost without exception heartfelt, thoughtful and compelling. Living With the Anthropocene is both acknowledgment that change is here as well as a quiet warning of the dangerous uncertainty to come.' — Warren Bonett, Books+Publishing

'These elegantly thoughtful essays make a passionate plea in defence of our wilfully abused planet. Read them and weep.' — The Canberra Times