The Legion of Regrettable Supervillians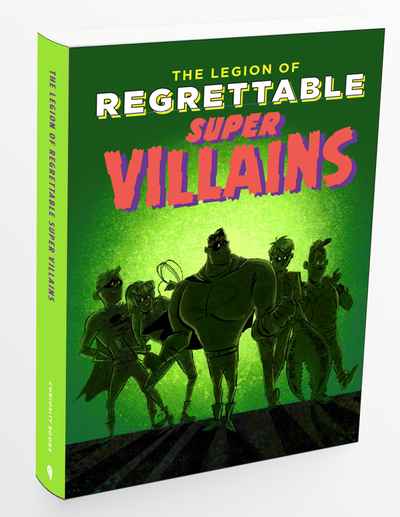 Hardback | Aug 2019 | Curiosity Ink Media | 9781948206242 | 220pp | 229x165mm | GEN | AUD$27.99, NZD$34.99


Age range 8+
In a city rife with villains, it seems anyone can don a cape and quickly rise through the ranks. Except that's not the case for every aspiring protector; least of all Ben, a low-ranking hero. However, following another eventless day at work, a nearby bank is robbed while Ben sits in a bar commiserating with a rejected group of super heroes, easily fitting in with them.
During the ensuing chaos of the robbery that engulfs Ben on the street, he somehow finds himself holding the bag of loot! Hearing the whistle of an incoming super hero, Ben ditches the bag and flees, but not before a nearby photographer snaps an out-of-focus photo of him... Relieved that the photo is out of focus and that his identity is safe, Ben can't help but feel a quick rush of excitement from his newfound, yet nefarious, notoriety an expertly brilliant villain. After an inspiring speech, Ben and his new friends agree that the villain life is a much faster road to fame than trying to be heroes and decide to form The Legion of Regrettable Super Villains. The Legion plans their most elaborate heist yet.
After it goes awry, they discover that Sir Superior has gamed the system to ensure his own top spot, and that he has an evil plan of his own — sacrificing the citizens' lives to frame The Legion! To save the day, The Legion of Regrettable Super Villains — who began as lowly heroes themselves, must make one final pivot and become true heroes once more! They'll have to fight back against Sir Superior and expose him for the villain he truly is. If they can pool their collective powers one final time, they might just save the day like they've always wanted!