Good Neighbours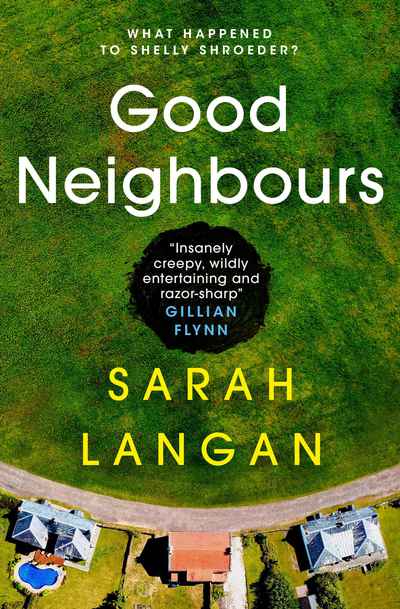 Paperback | Jul 2021 | Titan Books | 9781789098211 | 304pp | 198x130mm | GEN | AUD$19.99, NZD$22.99


Welcome to Maple Street, a picture-perfect slice of suburban Long Island, its residents bound by their children, their work, and their illusion of safety in a rapidly changing world.
But menace skulks among this exclusive enclave. When the Wilde family arrive, they trigger their neighbours' worst fears. Dad Arlo's a gruff has-been rock star with track marks. Mum Gertie's got a thick Brooklyn accent, with high heels and tube tops to match. Their weird kids cuss like sailors. They don't fit with the way Maple Street sees itself.
Maple Street's Queen Bee, Rhea Schroeder — a lonely professor repressing a dark past—initially welcomed Gertie, but relations plummeted during one summer evening, when the new best friends shared too much, too soon. By the time the story opens, the Wildes are outcasts.
As tensions mount, a sinkhole opens in a nearby park, and Rhea's daughter Shelly falls inside. The search for Shelly brings a shocking accusation against the Wildes. Suddenly, it is one mother's word against the other's in a court of public opinion that can end only in blood.
Riveting and ruthless, Good Neighbours is a chilling, compulsively readable novel that looks toward the future in order to help us understand how we live now.
'This book. This book. This book. Already been loaned 2 times, read and returned. Just like the rest of us, you will tear through it.' — Sarah Jessica Parker
'Insanely creepy, wildly entertaining and razor-sharp.' — Gillian Flynn, author of Gone Girl
'A blistering satire of suburban life with serious emotional stakes. A fantastic literary thriller.' — Sarah Pinborough, Sunday Times #1 bestselling author of Netflix's Behind Her Eyes
'One of the creepiest, most unnerving deconstructions of American suburbia I've ever read. Langan cuts to the heart of upper middle class lives like a skilled surgeon.' — NPR
'A modern-day Crucible, Good Neighbours brilliantly explores the ease with which a careless word can wreak havoc and the terrifying power of mob mentality. Langan deftly unveils the psychology behind her character's actions with blistering prose and spot-on depictions. She is a writer to watch!' — Liv Constantine, bestselling author of The Last Mrs Parrish
'You have to read Good Neighbours. All of it — the characters, the setting, the sinkhole, the heat—made this book the masterpiece that it is. Real and sad and almost painfully moving, Good Neighbours is a novel I will never forget.' — Sally Hepworth, bestselling author of The Mother-in-Law
'Ah, sinkholes. So random, so terrifying, they turn neighbourhoods into 'oozing wounds' — especially when grievances fester angrily underneath the surface. Sarah Langan plumbs these literal and metaphorical depths as they rip apart a once-bucolic suburb in her disturbing and mordantly funny new novel, Good Neighbours, a departure and an extension of her early horror fiction.' —Sarah Weinman, New York Times Book Review
'This sharp, propulsive novel pulls off a maximalist variation on suburban gossip gone wrong.' — Publishers Weekly
'A creepy standout for readers who want an extra kick to their suburban dramas.' — Booklist, starred review
'A sinkhole opens on Maple Street, and gossip turns the suburban utopia toxic. A taut teachable moment about neighbours turning on neighbours.' — People
'Extraordinary.' — Josh Malerman, author of Netflix's Bird Box
'Sarah Langan is a phenomenal talent with a wicked sense of wry humor. Good Neighbours knocked me out. Like Shirley Jackson, Langan's work blends a bleak streak with an underlying sense of the humane that wrung my heart.' — Victor LaValle, author of The Changeling
'Good Neighbours is a riveting critique of American suburbia. Langan deftly confronts social mores and beliefs as she tears all the ugliness down to make something dangerous and beautiful. The monsters of Maple Street have never been so us.' — Paul Tremblay, author of A Head Full of Ghosts and The Cabin at the End of the World
'There's a monster in each of us, in all of us, and there's a sinkhole in our hearts, too. Good Neighbours will walk you right up to the lip of that cavity, and make you look in, at your own monstrousness.' — Stephen Graham Jones, acclaimed author of The Only Good Indians
'Where the hell has Sarah Langan been? Because she suddenly pops up again after being MIA for eleven years and shotguns everyone in the face with an all-American horror novel about friendships— deep, shallow, toxic, true—that's unpredictable enough to make every page-turn stomach-crampingly stressful.' — Grady Hendrix, New York Times bestselling author of The Southern Book Club's Guide to Slaying Vampires
'Transcendent. Astonishingly insightful, heartbreaking, and profoundly wise. It's hard to imagine I'll find a more impressive novel this year.' — Christopher Golden, author of Red Hands