Decoding CEO-Speak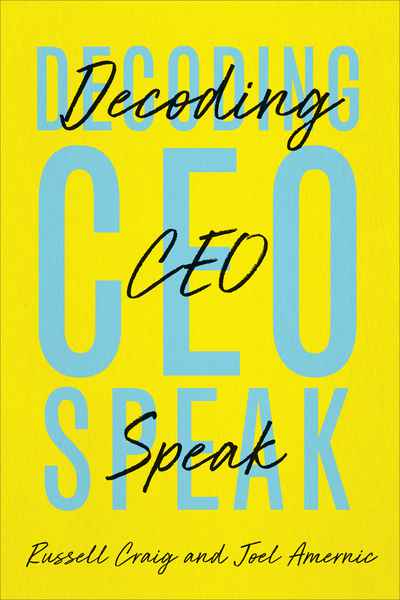 Hardback | Sep 2021 | University of Toronto Press | 9781487505950 | 264pp | 235x159mm | RFB | AUD$59.99, NZD$69.99


The words of business leaders matter. They can spark action, enhance branding, share knowledge, transmit values, and influence social and cultural behavior.
Decoding CEO-Speak critiques the public language of a powerful class of people – the Chief Executive Officers of major companies. Interest in the behavior and thinking of CEOs is not confined to their corporation's direct stakeholders only: the public is increasingly interested in how CEOs stand on current issues and community debate.
Through case study analysis of companies such as News Corporation, BP, Wells Fargo, Satyam, Uber, Canadian National Railway, Tesla, and Boeing, authors Russell Craig and Joel Amernic illustrate ways of mining meaning or decoding a CEO's written words and speeches. They critically examine a variety of public media, including social media, testimony, and speeches, performed by leaders of major companies.
Decoding CEO-Speak demonstrates how monitoring the language of CEOs can yield valuable insights into a company's policy, strategy, and ethicality; and how it can point to the priorities, values, and personality of the CEO. The book will appeal to CEOs, senior managers, and public relations and media consultants, as well as business professors, students, and corporate stakeholders who want to find otherwise disguised meaning in the words of leaders.