The Botanical Art of William T. Cooper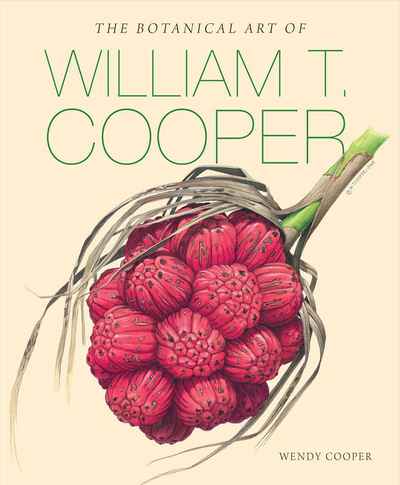 Hardback | May 2021 | National Library of Australia | 9780642279712 | 324pp | 284x233mm | GEN | AUD$65.00, NZD$79.99


William T. Cooper was one of the world's most esteemed bird painters. In his paintings, birds nibble at plump red berries, they rest on twisted vines and branches covered with lichen, and they clutch forest fruits and leaves in their claws. These botanical details, the backdrops to his bird portraits, are the subject of this lavishly illustrated book written by his botanist wife, Wendy Cooper.
For the bird lover, Bill's lush, full-colour paintings, many from private collections, are reproduced here, alongside Wendy's notes and Bill's diary entries about bird feeding habits. Wendy describes seeing King Parrots in the wet sclerophyll forest and rainforest at their home in Bungwahl, New South Wales, feeding on the juicy black berries of the Narrow-leaved Palm Lily (Cordyline stricta). The parrots were extracting the seeds and dropping the flesh. Over the course of a decade, Bill observed activity around an Umbrella Tree in their garden: 'Watched a female coloured riflebird feeding on the flowers of a Schefflera on the driveway. I'm convinced it was taking nectar as they do on the Thunbergia in the garden. It went from open flower to open flower'. For the nature lover, Wendy has included detailed botanical descriptions of each plant and personal notes about where a particular specimen was found. She takes the reader from rainforest to dry country, from swamps and beach forest to the jungles north of Australia. We learn that Maiden's Blush trees are forest giants with wonderful high-arching plank buttresses; that Bill had to shoot down a small stem from high up in the forest canopy to capture a fruit specimen; and that the tree's scientific name, Sloanea australis, honours physician, naturalist and collector Hans Sloane, whose private collection became the founding collection of the British Museum. Alongside Wendy's description is Bill's sketch of a Maiden's Blush buttress and a finished full-colour acrylic painting of Regent Bowerbirds perched on the tree's branches.
For the budding illustrator or artist, Cooper's annotated sketches, studies and paintings of plants, as well as many of his finished bird illustrations, give a unique insight into his artistic process. The Botanical Art of William T. Cooper shows the flora of Australia and beyond in all its messy, imperfect glory. Readers will gain a new appreciation of Bill's works. They will see the thick mossy branches and veiny withered leaves of a Sovereignwood tree (Terminalia sericocarpa) even before the black and red Palm Cockatoos in a double-spread oil painting; note the way a bird clutches and nibbles at a large green gumnut on a Marri tree (Corymbia calophylla) in a colour plate of two Red-capped Parrots. This is a beautiful book to dip into and treasure. For those who purchased An Eye for Nature: The Life and Art of William T. Cooper, this will make an equally valuable addition to your library.