Border Crossings: My Journey as an Outsider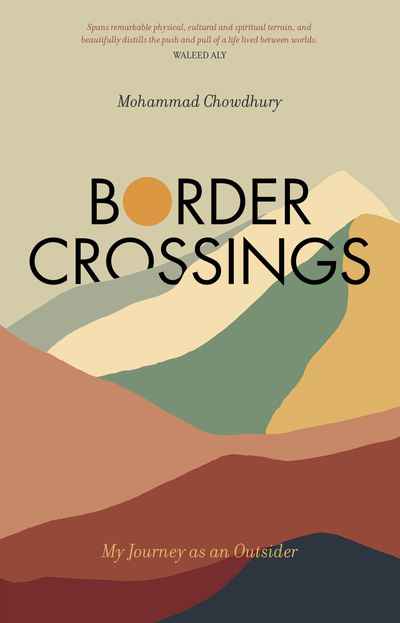 Paperback | Jul 2023 | NewSouth | 9781742238067 | 368pp | 210x135mm | GEN | AUD$34.99, NZD$39.99


Whether negotiating the mind-games of border security services or performing ablutions in a London bathroom, Mohammad Chowdhury's life travelling the world brings daily challenges.
Border Crossings is a thrilling ride from the city of minarets to the heights of picture-perfect skyscrapers. A journey of finding one's own identity, it is the story of a British born, Bangladeshi man of Muslim faith, trying to reconcile his western and eastern identities and the inconsistencies between the two.
Hustling his way through days and nights negotiating one cultural micro-adjustment after another, Chowdhury's story reflects our own struggles to find a place where we truly belong.
'What a journey this is! From west to east, from insider to outsider, from the mundane to the transcendent, Border Crossings spans remarkable physical, cultural and spiritual terrain, and beautifully distills the push and pull of a life lived between worlds. These are the snapshots of a life so familiar, yet so different from my own — the kind of book I might have written if only my life had been much more interesting.' — Waleed Aly
'Border Crossings is a fascinating journey of straddling dual cultures as Mohammad Chowdhury negotiates his identity and faith to find a sense of belonging as a global citizen. A powerful story about building trust and connections across diverse societies and borders that reflects the struggles of many to find a place to belong.' — Dr Bulent Hass Dellal AO
'With the polyglot Mohammad Chowdhury to guide us through a world in flux, we benefit at every one of life's checkpoints from his humane appreciation of the stories that bind us all together.' — Professor Nicholas Farrelly, University of Tasmania
'Border Crossings is the story of all migrants living in any corner of the world. Chowdhury's enthralling voice tells a deeper story beyond the personal. It portrays the incredible journey of someone living and growing up in diaspora. If you are a migrant, it echoes your own beliefs and experiences, and if you have never experienced migration in your life, it opens your eyes to the contradiction of beauty and pain that is the life of a migrant.' — Dr Nira Rahman, University of Melbourne
'Artfully balancing the personal and the universal, the relatable and the spectacular, the highs and the lows, Chowdhury brings his unique lens to the timeless themes of belonging and identity.' — Cheryl Akle, The Weekend Australian
'A tale that is cosmopolitan yet down to earth, poignant yet comic and, above all, humane.' — Fiona Capp, Sydney Morning Herald/The Age
'Chowdhury's real achievement is an ability to slip into cultures and find the human connection, and his outlook is shrewd and humane, particularly his regret at the Arab-isation of his faith.' — Robyn Douglass, Daily Telegraph