Bhutan to Blacktown: Losing everything and finding Australia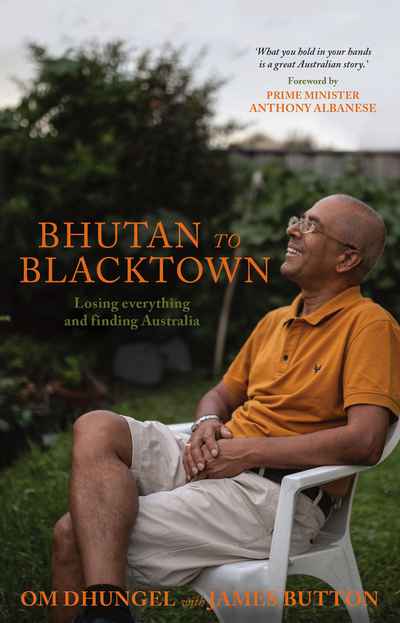 Paperback | May 2023 | NewSouth | 9781742237893 | 288pp | 210x135mm | GEN | AUD$32.99, NZD$37.99


I lost my possessions, my salary, my status, my career, my country. And in that fall, I gained everything.
Bhutan is known as the land of Gross National Happiness, a Buddhist Shangri-la hidden in the Himalayas. But in the late 1980s, Bhutan waged a brutal ethnic-cleansing campaign against its citizens of Nepali ancestry, including Om Dhungel and his family.
Bhutan to Blacktown tells Om Dhungel's remarkable story — his journey from a remote village to a senior position in the Bhutanese Civil Service, to life as a human rights activist in Nepal and, eventually, to his work as a community leader in Blacktown, western Sydney. Every step prepared Om for the central role he would play in settling more than 5000 Bhutanese refugees, in one of the most successful refugee initiatives in Australia's history.
Written with Walkley Award-winning journalist James Button, Bhutan to Blacktown is a story of grit and struggle, humour and irrepressible optimism — and how losing nearly everything shaped one man's character and fate.
'What you hold in your hands is a great Australian story.' — Foreword by Prime Minister Anthony Albanese
'A heartbreaking story of exile, with a stirring Australian ending.' — George Megalogenis
'Om Dhungel's journey of the heart and soul, from the fields of southern Bhutan to the streets of Blacktown, Sydney, is a journey from which we can all learn, regardless of our origins.' — Michael Hutt, Professor of Nepali and Himalayan Studies, School of Oriental and African Studies, University of London
'Om's optimism and tenacity helped him travel the harrowing path of a stateless person to build a new life for himself and his community. By telling his inspirational story and shedding light on the resettlement experience of Bhutanese refugees in Australia, Om brings the issue of refugees and the conditions for their successful integration in their new countries to a wider audience.' — Bhim Subba, author of Himalayan waters and former Director General of the Department of Power in the Government of Bhutan