A Lesson in Vengeance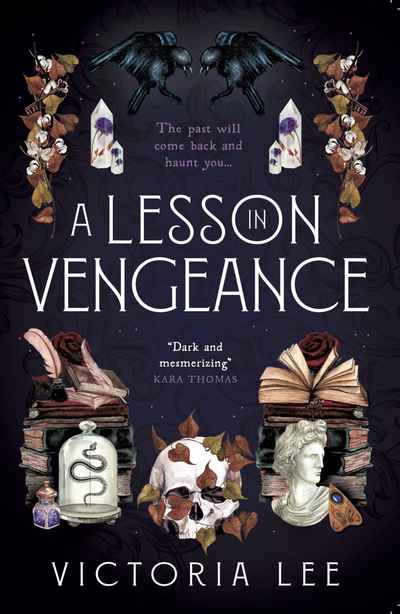 Paperback | Jun 2022 | Titan Books | 9781789099768 | 400pp | 198x127mm | GEN | AUD$19.99, NZD$22.99


Age range 14+
The history of Dalloway School lives in the bones it was built on. Five violent deaths in the first ten years of its existence. Sometimes you can still smell the blood on the air.
It wasn't until Felicity enrolled that she fell in love with the dark. And now she's back to finish her senior year after the tragic death of her girlfriend. She even has her old room in Godwin House, the exclusive dormitory rumoured to be haunted by the spirits of the five Dalloway students who died there — girls some say were witches.
It's Ellis Haley's first year at Dalloway. A prodigy novelist at seventeen, Ellis is eccentric and brilliant, and Felicity can't shake the pull she feels to her. So when Ellis asks for help researching the Dalloway Five for her second book, Felicity can't say no.
Dalloway's occult lore is everywhere, and the new girl won't let Felicity forget it. But when the past begins to invade on the present, Felicity needs to decide where she stands. The soil under her feet is bloody with Dalloway's history. But so is the present. Is it Dalloway — or is it her?
'A Lesson in Vengeance is at once dark and mesmerizing, with spine-tingling suspense and mind-bending twists. I loved it.' — Kara Thomas, author of The Cheerleaders and That Weekend
'A smart, layered, thought-provoking thriller about female desire and the intimacy of violence.' — Ava Reid, author of The Wolf and the Woodsman
'Darkly radiant and brilliantly wicked, A Lesson in Vengeance is a sharp dissection of queerness, ambition, and the forbidden luster of the occult. This book will possess you from first pages to its haunting, final words.' — Ryan La Sala, author of Be Dazzled and Reverie
'A Lesson in Vengeance is the witchy boarding school story I always knew I wanted, a gorgeous take on the complicated bonds of female love and friendship, told in lyrical, creeping prose as haunting as the tale itself. The ghosts of Felicity, Ellis, and Alex—and of Dalloway School and its historical witches—will linger with you long after the final page.' — Lana Popović, author of Wicked Like a Wildfire
'With queer primary characters, an irresistible gothic atmosphere, and unrelenting creeping dread, this propulsive work of dark academia is both thrilling and thought-provoking.' — Publishers Weekly, starred review
'[A] twisty, immersive thriller.' — Booklist, starred review
'…Devastatingly poetic...Teens will be as haunted by this narrative as the characters within its pages.' — School Library Journal, starred review