City series
Adelaide, updated paperback edition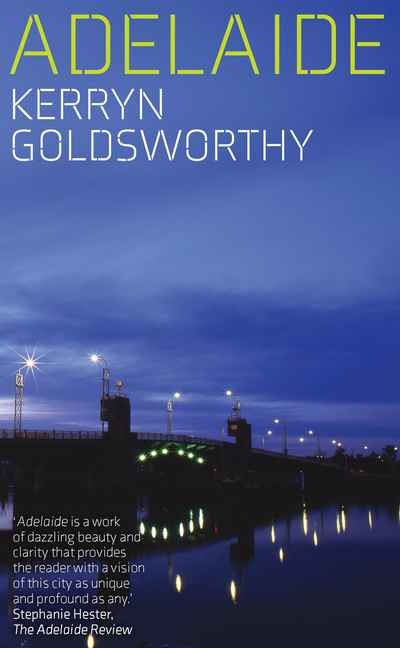 Paperback | Nov 2020 | NewSouth | 9781742237060 | 304pp | 178x110mm | GEN | AUD$29.99, NZD$34.99


Any place you have experienced first-hand is a museum of memory, one whose exhibits conjure up, in widening ripples of association, a whole city: a red paddle-boat, a photograph of three children on a hot day, a marble Venus fetchingly half-naked in the shade.
Kerryn Goldsworthy's acclaimed Adelaide is a museum of sorts, a personal guide to the city through a collection of objects, iconic and everyday. Goldsworthy navigates her southern home, discovering its identifying curios and passing them to the reader to touch, inspect and marvel at. These objects explore the beautiful, commonplace, dark and contradictory history of Adelaide: the heat, the wine, the weirdness, the progressive politics and the rigid colonial formality, the sinister horrors and the homey friendliness. They paint a lively portrait of her home city – as remembered, lived in, thought about, missed, loved, hated, laughed at, seen from afar and close up by assorted writers, citizens and visitors – as it exists in her memory and imagination.
In a new afterword, Goldsworthy ponders changes and revelations since Adelaide was first published in 2011 including, inevitably, the record-breaking heat of a 46.6-degree day.
'For in many ways, Goldsworthy's impressively subtle and even-handed book is both a product of and a tribute to those same contradictions, demanding readers look beyond Adelaide's often deceptive surfaces and understand the hidden currents that have shaped its deeply idiosyncratic culture. Like its predecessors in NewSouth's cities series, Goldsworthy's book is as much personal essay as public document, a reflection on memory and place exploring the complex bonds that tie us to the places we call home, the profusion of images and sensations and memories that constitute our understanding, not just of where we came from, but of who we are.' — The Sydney Morning Herald
'Goldsworthy's prose is rich and effortless, suffused with memories of her own childhood and youth. Her book will be a boon to discerning visitors, and has much to teach the locals too.' – JM Coetzee
'Adelaide is a work of dazzling beauty and clarity that provides the reader with a vision of this city as unique and profound as any.' — Stephanie Hester, The Adelaide Review