36 Streets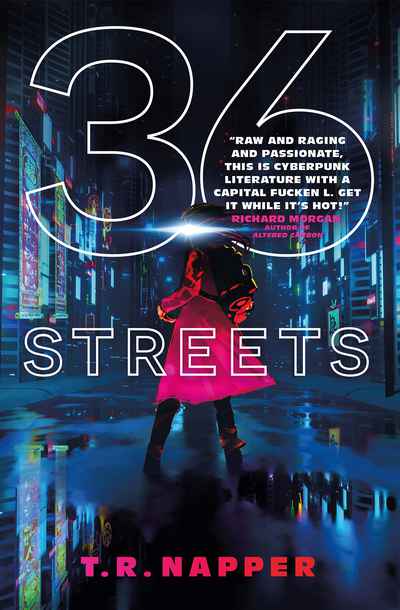 Paperback | Jan 2022 | Titan Books | 9781789097412 | 448pp | 198x127mm | GEN | AUD$24.99, NZD$29.99


**Winner, Ditmar Awards 2023, Best Novel**
**Winner, Aurealis Awards 2022, Best Science Fiction Novel**
'Not since Bacigalupi's The Windup Girl have I been so utterly enthralled by a science fiction novel. 36 Streets is a cyberpunk tour de force — richly textured, nuanced, and shot-through with emotional depth. I could practically feel the sweaty, grimy, bloody, tropical heat oozing from the pages. One of the standouts of the year.' — Richard Swan, author of The Justice of Kings
Altered Carbon and The Wind-Up Girl meet Apocalypse Now in this fast-paced, intelligent, action-driven cyberpunk, probing questions of memory, identity and the power of narratives.
Lin 'The Silent One' Vu is a gangster and sometime private investigator living in Chinese-occupied Hanoi, in the steaming, paranoid alleyways of the 36 Streets. Born in Vietnam, raised in Australia, everywhere she is an outsider.
Through grit and courage Lin has carved a place for herself in the Vietnamese underworld where Hanoi's crime boss, Bao Nguyen, is training her to fight and lead. Bao drives her hard; on the streets there are no second chances. Meanwhile the people of Hanoi are succumbing to Fat Victory — a dangerously addictive immersive simulation of the US-Vietnam war.
When an Englishman comes to Hanoi on the trail of his friend's murderer, Lin's life is turned upside down. She is drawn into the grand conspiracies of the neon gods – of regimes and mega-corporations — as they unleash dangerous new technologies.
Lin must confront the immutable moral calculus of unjust wars. She must choose: family, country, or gang. Blood, truth, or redemption. No choice is easy on the 36 Streets.